Trending ...
As the newly appointed Interim Moderator of Metropolitan Community Churches (MCC), I humbly reflect on this 48th anniversary of MCC.
Today, I am on a plane going to Florida as Hurricane Matthew approaches. Why am I going towards a hurricane? I am going to Florida to meet MCC office staff members and Rev. Elder Dr. Nancy Wilson. I will also speak with MCC founder Rev. Elder Troy Perry. Nancy, Troy, and I will celebrate MCC and discuss the transition to me as the newly appointed Interim Moderator.
Transition is a part of living, dying, and hurricanes.
Today, leaders of Metropolitan Community Churches called for the immediate action to stop the string of shootings of African Americans. The latest shootings of Keith Lamont Scott in Charlotte, North Carolina, on Tuesday, September 20 and Terence Crutcher in Tulsa, Oklahoma, on September 17, brought people to the streets for a week of demonstrations in Charlotte and officer Betty Shelby was charged with first-degree manslaughter in Tulsa.
"In a time of heightened mistrust between law enforcement and communities of color, it is time to stop the shooting!" said Global Moderator, Rev. Dr. Nancy Wilson. "We also call on the U.S. Congress to enact the 'Preventing Tragedies Between Police and Communities Act of 2016' that would go a long way to creating a safer environment for all citizens and for the police. This act fosters training of police in de-escalation techniques, in effectively using the lowest level of force possible for a safe response, and in dealing with people who have mental illnesses. It addresses some of the systemic issues of racism that pervade urban law enforcement."
"In a country saturated with guns; where funding for community policing dried up as resources now go to fighting terrorism; and where racism still operates structurally and personally, Black lives in particular are held in the balance and atrocities proliferate," said Dr. Wilson. "A white person with a gun is a patriot but a Black person with a gun is a threat."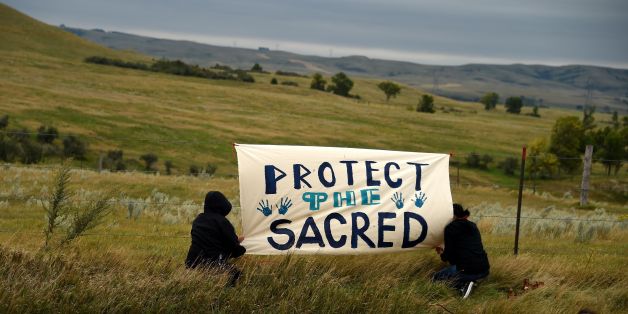 "Metropolitan Community Churches know what it means to have our sacred sites defaced with spray-painted slurs. We know what it means to have our ministers murdered. We know what it means to be turned away from funeral homes because of who we are. We know what it feels like to have all we hold sacred desecrated.
"So we have some idea what the Sioux nation in Standing Rock Dakota and all the First Nations people gathered in the Dakotas are facing as they resist the desecration of their graves and sacred lands...."